WARBRINGER to Release 'Total War – The Complete Cassette Box Set'
WARBRINGER in cooperation with M-Theory Audio is releasing Total War – The Complete Cassette Box Set February 10th. Collecting all 6 of the new era metal band's albums with bonus tracks on each from the same recording sessions. Additionally, the box includes the band's sought-after demo recordings, 2005's Born Of The Ruins and 2006's One By One The Wicked Fall. Housed in a camo matchbox style box with Warbringer patch, sticker and pin and limited to 250 copies. Available now https://m-theoryaudio.com/product/869617.
Spanning over 15 years of music one can hear and appreciate the journey begun by teenagers inspired by their influences to an international recording and touring juggernaut trailblazing new paths and inspiring a next generation. Officially licensed from past label Century Media and current label Napalm Records Total War… introduces each of their albums onto the classic cassette format each with its own unique colored shell. And each album collecting bonus tracks from the same sessions including b-sides and cover versions totaling 12 additional songs.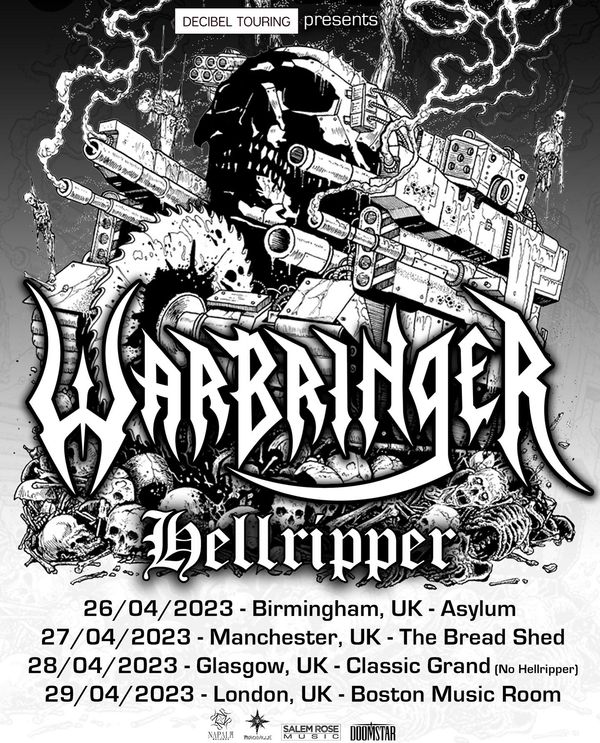 Festivals Starting To Announce For August
WARBRINGER ANNOUNCE NORTH AMERICAN TOUR WITH DESTRUCTION!
WARBRINGER - "REMAIN VIOLENT"
WARBRINGER ANNOUNCE WEST COAST TOUR
NEW MUSIC VIDEO "SILHOUETTES"
WARBRINGER ANNOUNCE EUROPEAN TOUR